Shopping :: Punta Cana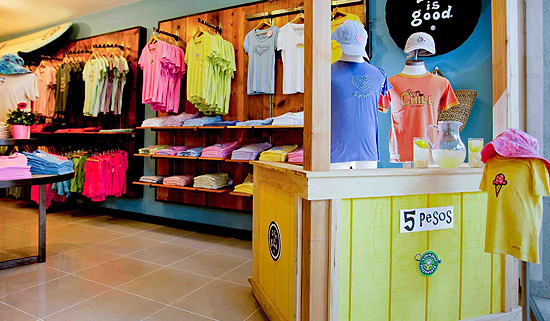 Each hotel in Punta Cana features stores where local arts and crafts can be purchased and vendors and artisans bringing their creations directly to the tourists. Punta Cana is in a way tourist trap so don't expect any great deals here.
Punta Cana has two main shopping plazas (Plaza Bavaro and Plaza Punta Cana), stocked with Dominican & Caribbean crafts and unique gift ideas: silver and hand made souvenirs, hand-rolled cigars, rum and ceramics. Shopping plazas in Punta Cana are in the open air and consist of many small shops.
There's another shopping complex, mainly for crafts, reached along a dirt road labeled MERCADO. This is a bustling crafts market open daily 8am till sunset..
One of the more recomandable shops is La Reina Dominicana located at the Plaza Brizas de Bavaro. They sell handmade cigars, Dominican Amber and Larimar jewelry, organic Dominican coffee and Dominican rum.
Plaza Bavaro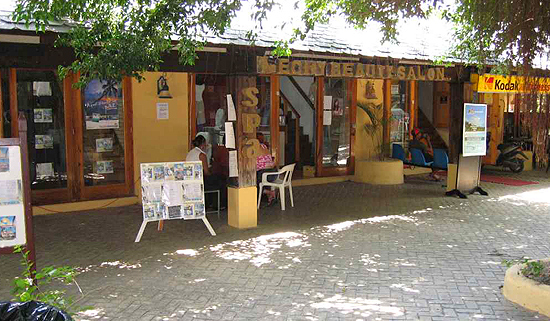 Shopping at Plaza Bavaro provides a great opportunity to mingle with the locals while on vacation in Punta Cana. Plaza Bavaro is the favourite shopping plaza for visitors and locals alike. The Plaza is open every day from 9:00 am to 7:00 pm and includes many gifts shops, a calling center, Internet center, banks, restaurants, pharmacy, jewellery store and various boutiques. It is an ok place to bargain hunt, especially for cash purchases – don't forget to ask for a discount, which may be as high as 40% off the asking price.
Palma Real Shopping Village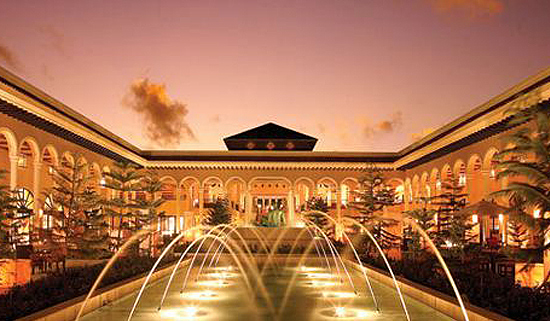 The Palma Real Shopping Village (also known as Palma Real Shopping Centre or Punta Cana Shopping Village) is one of the best places to go if you're looking to do some serious shopping. Many people prefer this shopping center to Plaza Bavaro, as some feel that Plaza Bavaro is too intense and that the vendors are too pushy.
Most resorts offer a free shuttle bus to Palma Real, so a rental car isn't necessary. Besides the variety of different shops, Palma Real also offers several restaurants to choose from, including U.S.-based chains such as the Hard Rock Cafe and Tony Roma's.
Basically, this is a good place to go shopping in Punta Cana if you're looking for something a little more upscale and a little closer to the kind of shopping experiences you can have in the U.S.
San Juan Shopping Center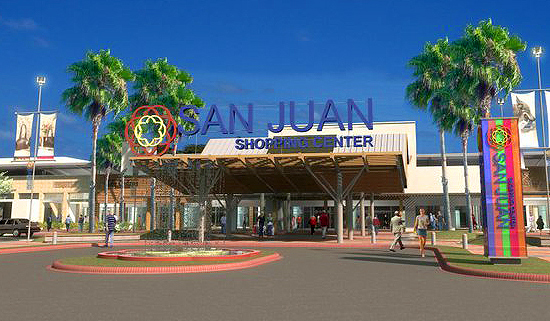 This is the newest shopping mall in Punta Cana and it's also very complete, it has a big supermarket if you're ever in the need for some groceries. This mall is oriented, in my opinion, more towards to local people than tourists (unlike the Palma Real Shopping Village) so if you want to mingle with the dominicans while shopping this would be a good option. The San Juan Shopping Mall features a movie theater, restaurants, fashion stores, beauty centers and spas.
Bi2JH2O Artisanal Shopping Plaza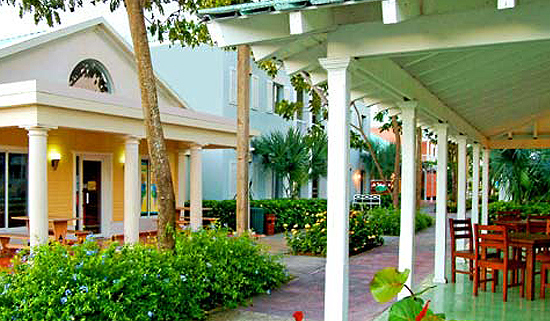 Pronounced "bibijagua" (bee-ja-gooah ). Located in the sands of Bavaro Beach, this bazaar like marketplace is a great place to shop for cigars, handicrafts, mamajuana, handmade musical instruments, paintings, wood carvings, sculptures and amber, larimar, and coral jewelry. Accesible by foot from various hotels and by cab.
Caribbean Street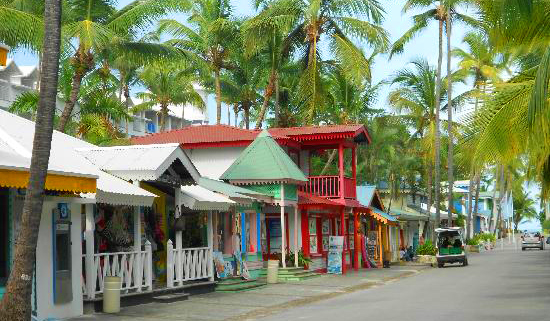 Caribbean Street is a fantastic place to go shopping in Punta Cana. Accesible only from within the ClubHotel Riu Bambu with its adorable, brightly colored shops and palm trees lining the street, it has a very authentic Caribbean vibe.
There are a variety of stores to choose from as well. Besides practical stores, such as a pharmacy and a gym, Caribbean Street has a number of gift shops and boutiques selling one-of-a-kind clothing. There's also a Harrison's Jewelers, which makes some of the finest jewelry in the Caribbean.
If you're up for a splurge, it's a great way to get something unique so you'll always remember your trip to Punta Cana.