Activities :: Punta Cana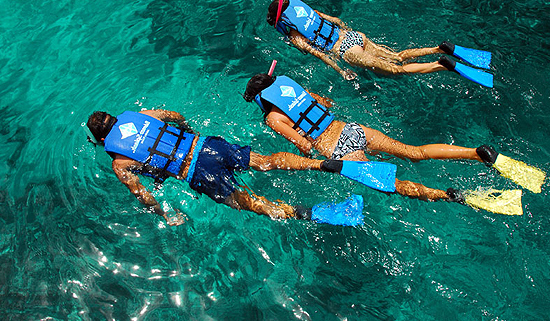 There is an endless supply of activities around Punta Cana. Many tourist facilities and attractions have been established in the area, catering to the large international market.
Activities in Punta Cana not only include diving but also snorkeling, windsurfing, kayaking, jet skiing, sailing etc. On the land visitors can play beach volleyball, soccer and of course Punta Cana is a huge golf destination. There are many fresh water pools where one can swim, find aqua aerobics classes or play water polo.
Punta Cana Golf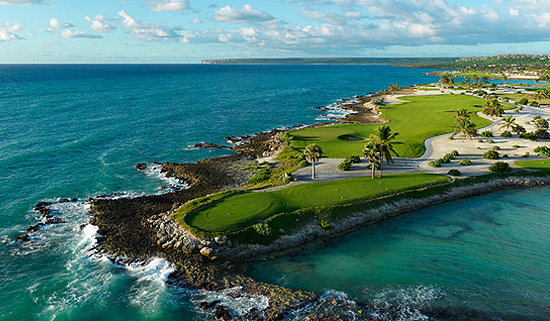 Punta Cana is one of the largest single destination for golf in the Caribbean. There are about dozen golf courses in Punta Cana and almost 30 in the whole of the Dominican Republic. The golf courses are being built and remodeled all the time so check with the golf course for the update on the course you would like to visit.
You can easily rent equipment at most of the courses.
The Bávaro Golf Course at Barceló Bávaro Beach is the best golf course on this end of the island. The course was re-design by world-renowned golf course designer Pete Dye in 2010. The course traverses through a lush mangrove forest, with 25 inland lakes and 122 strategically positioned bunkers.
Another very popular golf course is Punta Cana Golf Club, near Punta Cana Resort & Club. This golf course was also designed by Pete Dye. Here on most of its holes one can enjoy panoramic views of the Caribbean Sea.
Many of Punta Cana Resorts are golf resorts and many of these golf resorts open their golf courses only to their clients and their guests.
Punta Cana Whale Watching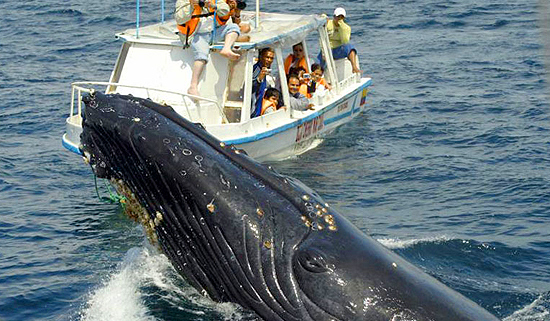 Whale watching season in Punta Cana runs from January 15th and can least until the end of March. The best place to see whales in Punta Cana however is Samana about 5-6 hours north of Punta Cana.
During the season if the whales are passing by, your resort might organize a tour to see the whales or you might even be lucky to see them in front of your hotel. For the best experience however a trip to Samaná is recommend.
Each winter Humpbacks migrate (anywhere from 2000 to 4000 miles) from distant northern feeding grounds in the the east coast of Canada, Greenland and Iceland to the warm Caribbean waters of Punta Cana to reproduce.
Pregnant females give birth and nurture their offspring, preparing their calves for the long return journey north and adolescent Humpbacks learn by example their future reproductive roles.
Humpback whales are a whale watchers delight. They are coastal whales and are considered one of the most active species of whale in the world. They do have an amazing repertoire of behaviors some of which are unique to the reproductive end of their annual migration. The lonely, haunting song of the solitary male Humpback can be heard in Samaná Bay waters and groups of males aggressively compete for the right to escort eligible females.
The easiest way to see the whales in Samana is to find an organised tour through your hotel or resort. These tours go to Samana by bus or by a smallish plane. Either way the tour will take the whole day. Prices start at around US$ 150 per person when going by bus.
Punta Cana Rafting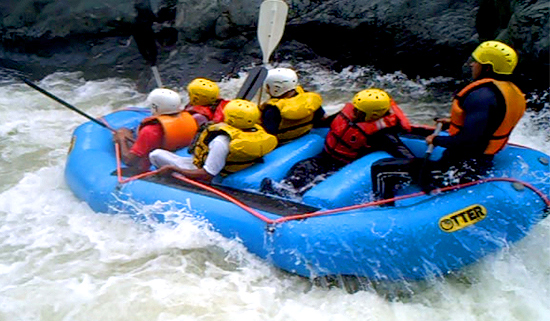 Punta Cana is located on a flat and arid land so naturally there is no rafting nearby. Nonetheless in other more mountainous parts of the Punta Cana one can definitely enjoy rafting year-round.
One of the best rafting can be found around Jarabacoa. Here the rapids are class II thru class IV and the trip takes about 3 1/2 hour trip. River trips cost around US$40 to US$60 per trip. For those who prefer a more relaxing day on the river most of the rafting companies also offer river tubing.
Punta Cana Zip Lines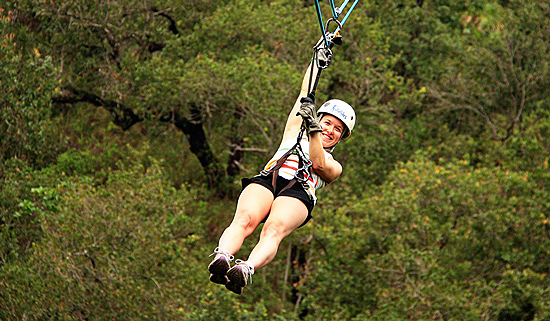 Zip Lines – sometimes known as canopy tours – can be a lot of fun. At these zip lines one can feel like he or she is flying through the rain forest. The main company that provides this adventure in Punta Cana is Canopy Adventure.
Canopy Adventure ZipLine has 8 double lines cables and 15 platforms. At some of these cables you can be flying at 60 km/h (about 40 miles per hour). The tour takes around 4 hours and costs about $US 90 per person. It includes a bit bumpy round trip transport, full safety briefing and equipment and some refreshments (but eat before you go).
People that go are typically very happy with the experience, but on many days there are a lot of people. Also one should note that there is a bit of walking involed to get to the zipline. Note: Almost anybody can go down the zipline (there is no weight limit), but the limit for for the harness is 45 inches (114 cm) around the waist.
Punta Cana Snorkeling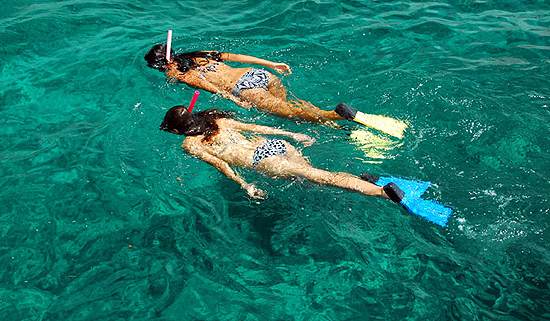 There are some pretty awesome snorkeling opportunities near Punta Cana. Snorkelling can be done from shore or in selected areas near the reef. The best snorkeling can be done by taking an excursion to The Aquarium (east of Club Med) and towards the reef off El Cortecito beach or to the area near the Riu Taino hotel.
Punta Cana Jungle Tour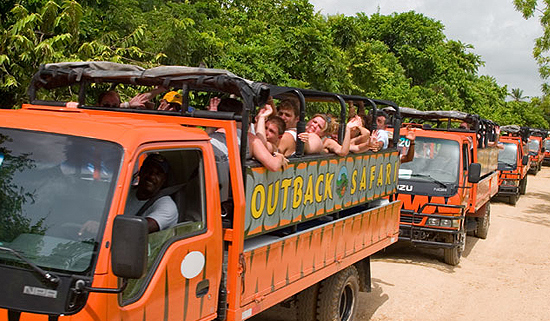 About 50 km southwest from Punta Cana -lies The Parque Nacional Del Este (or National Park of the East). Here tourists can experience a real jungle excursion. The park consists 31,244 Ha of open space on the southeastern peninsula of Hispaniola and 10,650 Ha on Isla Saona. While the Saona island is a popular tourist destinations significantly less people come to visit the peninsula.
During this excursion one can experience the various parts of the park: the dense dry jungle, the fauna and flora. Visitors also have the opportunity to learn the story of the native people that lived here for centuries.
The majority of Hispaniola's mammals are represented within he Parque Nacional Del Este. The Hispaniolan solenodon, a small, shrew-like mammal, and the hutia, a large rodent, are both endemic to the Caribbean and threatened with extinction. In addition, there are rhinoceros iguanas, six species of snakes, ten species of lizards, and three species of crabs.
Endangered marine species include the Caribbean manatee and loggerhead, green, and hawksbill turtles. The peninsula's coastal areas feature intact mangrove forests, seagrass beds, and coral reefs—all key ecosystems of the Central Caribbean marine ecoregion.
Before you set on a jungle tour from Punta Cana you want to make sure that you really are going to jungle and not on a tour that is called jungle tours but not really taking you in the real jungle and showing you animals in cages instead.
Seavis is one of the companies that will take you on a more real jungle trip. Their trips take about 8 hours and include 90 minute hike that is not too difficult, but participants must be able to walk on uneven surface without problems. The cost for adult is around US$85 and does not include price of transfer from Punta Cana (additional US$ 25)
Outback Jungle Safari is a company that takes tourists on more relaxing "jungle trips" in their orange trucks. During these tours you will not go deep in the jungle but you will visit traditional household, chocolate plantation and see native animals like crocodiles, iguanas and turtles. The cost for a full day tour is about US$85.
The Parque Nacional del Este can also be visited independently. There is a Park Office (tel. 809/833-0022, 9 a.m.–1 p.m. daily) in the parking lot of Bayahibe where you can pay entrance into the park (RD$100). Camping is not permitted in the Parque Nacional del Este but is allowed on the nearby island of Isla Catalinita.